Lately, I was traveling the Yucatán Peninsula in Mexico, and I really enjoyed it a lot! There are beautiful landscapes, majestic Maya temples, historical cities, happy people and extraordinary food to discover. In order to make your trip as beautiful as mine was, I created a list with some tips for traveling the Yucatán Peninsula. I hope it will inspire you and make your trip even more beautiful and exciting.
Boarder crossing to Mexico
I was traveling from Guatemala through Belize to Mexico. The whole trip to Tulum took me around 11 hours. For me it was important to travel safe, and don´t be stuck or lost on the way. So I booked a Shuttle bus one day in advance (in Flores, Guatemala), and everything worked very well. Shuttle buses for boarder crossings are a bit more expensive than normal Chicken busses, but it´s absolutely worth it, especially if you are travelling alone. Traveling by Chicken bus will take you longer, you have to change busses many times, and you may be stuck on boarder crossings.
Be aware of first and second-class-busses
There are first and second-class-busses in Mexico. The first-class busses, for example ADO-Busses, are faster, more comfortable and more expensive. So if you like to travel fast and comfortable, that´s a good option. If you don´t mind about velocity and comfort, the second-class busses are absolutely fine and sometimes even the half of the price. In comparison with Chicken busses in Central America, all Mexican busses are really comfortable 😉
Make couchsurfing
I met fantastic people in Mexico by doing couchsurfing. Actually, I was almost my whole trip couchsurfing 😉 You learn more about their daily lives and the culture, you will get fantastic Mexican food, you share interesting and funny stories, many couchsurfers are taking you around, so you can explore new places not only from a tourist point of view – and last but not least: you will make new friends. It´s really exciting and Mexican people are one of the most friendliest, I´ve ever met.
Visit cenotes
Really, don´t miss to visit a cenote! This natural wonders will just take your breath away. Swimming in the cold clear water, watching the fish below you, looking up to the blue sky and just enjoying life. That´s how it feels like to swim in one of them.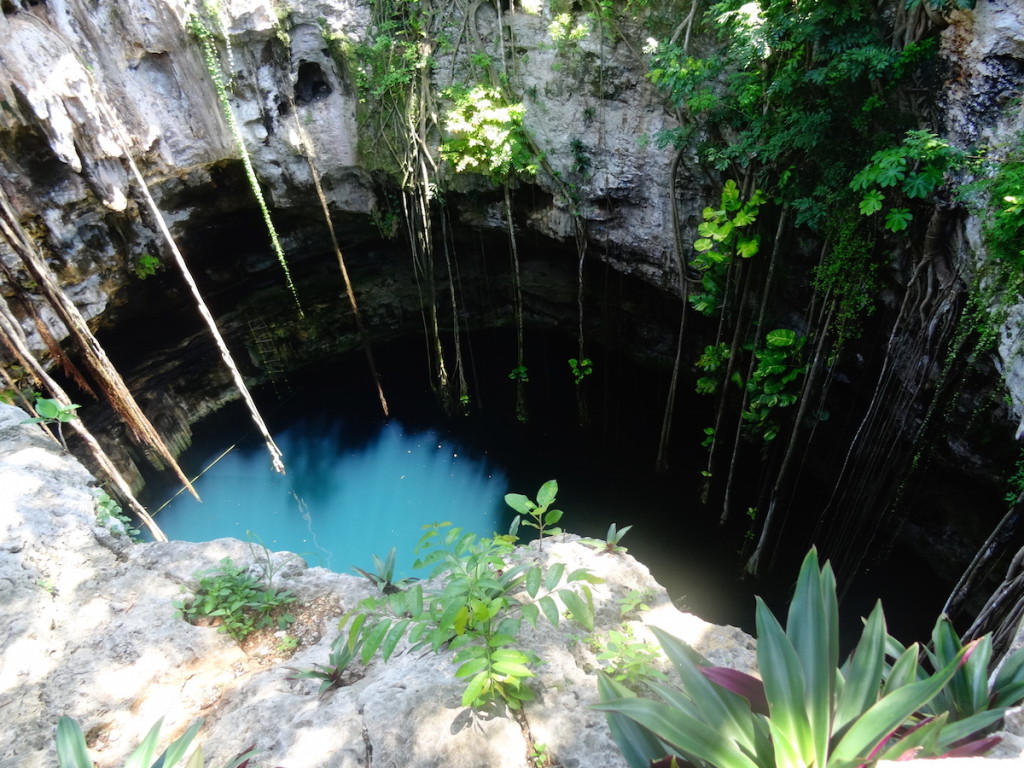 Don´t miss the cultural center: Merida
Beautiful colonial buildings, places, parks, streets and churches – that´s Merida. And it´s not without a reason called the cultural center of Yucatán. Almost every day colorful performances like Mexican dances or traditional Mayan festivals are taking place on the streets of Merida. There are also many museums about the Mexican history and ancient Maya culture, and many theater plays are by the way for free.
Enjoy ancient Maya ruins
The ruins of Tulum for example are very special, because of it´s spectacular location directly by the Caribbean sea. But the ruins itself are not that special, though. But always really worth a visit are the ruins of Chichén Itzá. Avoid the crowds around midday and try to get there as early as possible! It´s also better to get there early and to leave early, because of the penetrating sun. Shadow is almost not available on the area.
Always take sun block with you
That leads me directly to the next point. Make sure to take sun blocker with you! Especially during summer time, it can get incredibly hot and the sun can be really tough. It´s even best to avoid going out around midday, from 11 am to 3 pm.
Visit the yellow town
The yellow town is called Izamal, and it´s not far from Merida. Just take a so called "Collectivo" from the big market in Merida. "Collectivos" are small busses for about 10 passengers and they are leaving as soon as full, which is about every 10 minutes. It´s a good daytrip. You will be impressed by Izamal. Really, every building is yellow!
Try self-made Mayan chocolate
In Valladolid there is the Cacao Museum where they process cacao like the ancient Mayas did. The entrance is free and they will give you a short tour through the small museum. Afterwards you can try different chocolates and buy also some if you want. They also have a little café, where you can get hot chocolate with different flavors. It´s very delicious!
Thanks for reading!
-Sarita
Here you can find more photos